People are always blaming circumstances for what they are. I don't believe in circumstances. The people who get on in this world are the people who get up and look for the circumstances they want, and, if they can't find them, make them. George Bernard Shaw
Two paintings changed everything about how we portrayed ourselves in the 20th century. One was Matisse's "Green Stripe." The other was Picasso's portrait of Gertrude Stein. Along with a new way of seeing and painting these works evinced the shift to visual consciousness. For these painters it wasn't enough to portray someone's features, to get a good likeness. Nor was it enough to simply be an adept handler of paint. One had to dig deeper, infuse the work with not only original visual ideas, but with the emotions and feelings that those ideas and their effect on the rising subject untethered in the imagination of the artist. 
The hard visual innovation in these portraits reconciled the ideas of painterly history with the avant garde present and brought a new vision into being.
"Picasso had never had anybody pose for him since he was sixteen years old. He was then twenty-four and Gertrude had never thought of having her portrait painted, and they do not know either of them how it came about. Anyway, it did, and she posed for this portrait ninety times. There was a large broken armchair where Gertrude Stein posed. There was a couch where everybody sat and slept. There was a little kitchen chair where Picasso sat to paint. There was a large easel and there were many canvases. She took her pose, Picasso sat very tight in his chair and very close to his canvas and on a very small palette, which was of a brown gray color, mixed some brown gray and the painting began. All of a sudden one day Picasso painted out the whole head. I can't see you anymore when I look, he said irritably, and so the picture was left like that." The Autobiography of Alice B. Toklas (1932)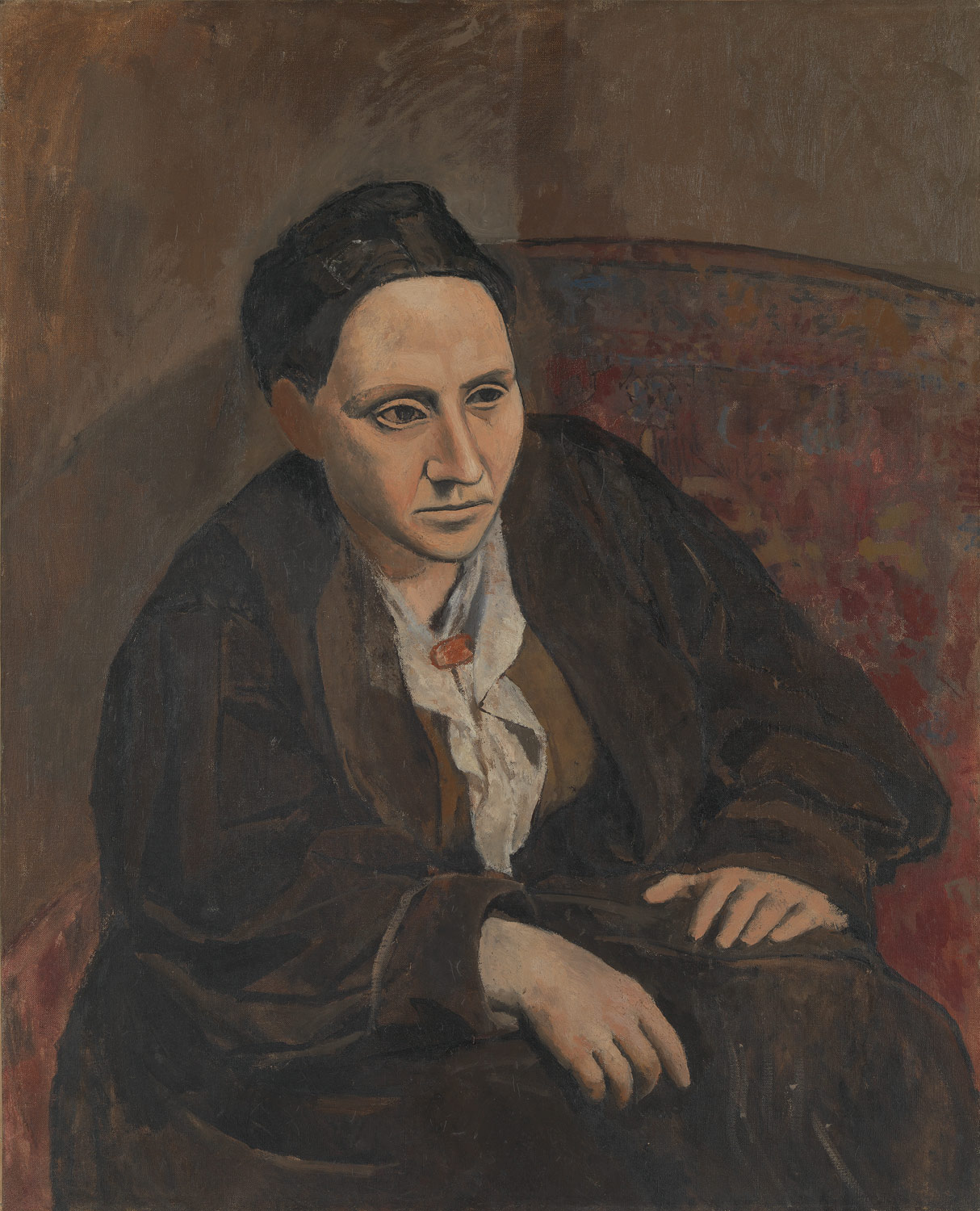 I find it interesting that both of these artists worked from models, from actually looking at the rising subject. In Picasso's work we see all of his brand new studio tricks at work – the mask, the "Iberian" style, the broken grounds of beginning cubism. He completed the picture without Gertrude in front of him not soon after a summer trip to Spain. I think this is significant. Picasso had to search inwardly for the memory of his vision. Both artists heightened the experience of what they had seen – they moved inward. 90 sittings and then time away brought Picasso to some form of visionary clarity. Gertrude solidifies before us – a boulder, a rock. Her face is mask-like, sardonic and squinty – that left eye is looking to pierce you through (we used to call this the stink eye.) Picasso wanted something more than her features, he wanted her physical effect and how it made him feel. What is of further interest is to compare his treatment of the ground with that of the Velazquez painting. There is a similarity of visual involvement, of involved flatness. The ground pushes against the figure, there is no space, a kind of flatness and painterliness. Why? What are these painters trying to get at? To understand more we must begin with Manet who was shameless about his use of Velazquez's grounds in his paintings, and because of it, he broke with the academic ideas of space. The assertiveness of the ground became the foundation beneath the Modernist temple. Look further – both figures are three quarters, both squint out at us. Look at the right hand of each figure – there is a connection – an off-handedness to the gesture and its deliberate portrayal. Picasso is playing with the idea of painterly history and its relationship to power. Velazquez is playing with the idea of real-world power. Who knows if there's a deliberate connection – what is important is the continuity and the memory that is being transformed for a new century. That easy hand in both paintings belies the truth about painting. There is no rest. As a good friend of mine once said "[A]…painter's hands must never be at ease."
Great portraits always have some element of the artist's psychology, but even more, they should also have visual connection. Velazquez and his lenses found something visceral to portray through his techniques, but mostly, he found expression through his emotional relationship to the rising subject. In this portrait of Innocent the suspicious Pope winces and grimaces at us, the red ground cages him, flattens the room he sits in. The shine of his silk bib spreads across his chest like a tawdry flame. In his left hand a document of some kind waiting to be handed on to someone – the power of the church, the institution waiting to be put into force. The Pope at first wasn't too happy with the finished painting – "troppo vero." This portrayal of the Pope later inspired Francis Bacon in a most fearsome way – Innocent underwent a violent act leaving only a screaming mouth seen through torn and slashed paint. It makes you wonder what Bacon had read in that offhand document. Velazquez painted his short relationship with this Pope – Bacon painted his lifelong relationship with Velazquez. How we see ourselves, how we represent who we are is tied to one's time, to what is happening in one's world. We are, after all, human. Each and every generation rediscovers its unchanging humanity, but the constructs, the realities of each era change, and it is through those changes that our thoughts, our visions and our understanding, hopefully, expand.
As we've already discussed Surrealism and Expressionism became quick and easy ways to get to the painterly subjective in the last century. It continues in this one as well. Contemporary figuration has morphed into a ground for media signifiers tied to the codes of recent painting history. The rising subject becomes lost to this ground. There are few abstract figurative painters today that do not fall back on some form of institutional Surrealism or academic Expressionism. Rather than find new visual ideas, new metaphors or new styles the POMO position remains chained to appropriation and irony. For instance in Neo Rauch's work we see a mixture of "realist" and media figurative techniques set in a Surrealist avalanche of visual innuendo. Narrative is expansive, mood is apparent and precedent is everywhere you look. John Currin provides a similar experience. Both of these painters traffic in the academic and tart it up with ironic distance, mannered techniques and cool self awareness. Both artists remain comfortably ensconced in the Surreal.
Let's have a look at John Currin's portrait entitled "Heartless." Now whether this is a real or made up portrait matters little. Currin isn't worried about a direct encounter with the rising subject. Rather he is using a pastiche of style that submerges the rising subject in the ground of mediated history. It is an illustration designed to convey ironic art historical references rather than a visual involvement with the subject of the portrait. The mannerism inherent in this type of painting is a distancing device allowing the artist to remain unrevealed and unknown. We don't know anything about how the artist feels about the subject – she is rendered as a realistic caricature. In this painting the refined subject reveals her absent "heart" in the cut of her fashionable dress. The artist stays at a respectable distance unaffected by her reveal. She is like a religious signifer, a Christ pointing to his bleeding heart. In other words what is being painted is a known iconography, symbology, cosmology – a ground for historical reference. The portrait never opens itself to a depth of visual reading or feeling – it remains tied to signs and signifiers rather than personality and encounter. It never breaks with the past nor opens up to the future. It is a cypher and a sign of our time – it's an avatar.
The avatar is something we see all the time in our media saturated age. It is a sign and a product at the same time – something for consumption. For instance the portrait of the actor on the left serves a few functions. First and most obvious is the reference to popular culture from the 40s and 50s – the Vargas girl. A touch of irony is thrown in to give an updated wink and nod to America's obsession with the louche and risque. Here the Vargas girl is innocently gardening…pot, mary jane, cheeba, chronic, weed….The program upgrades and appropriates with nostalgia and the glamour of bygone eras (the glitzy pin-up and 60s counter culture) in order to entice the viewer to tune in (and pay subscription fees.) All of which signify the tone of the program – what I call the Blue Velvet effect – a mixture of Surreal decadence, illusionary Americana and dysfunctional violence (she holds the garden hose sprayer like James Bond holds his Walther PPK.) Finally and most importantly, it is a portrait of the actress Mary Louise Parker portraying a fictional character. And this is the point where the avatar begins. There is no such person as the character, and the actor is not being herself. Both the portrait of the fictional character and the portrayal by the actor create an optical disjunctive experience that has no meaning outside the boundaries of the coded program itself. For instance can we say this is a faithful rendering of Mary Louise Parker? Or can we infer from the portrait that this is how the character actually appears to be in the program? If that is true would it be possible for another actor to assume that role and if so, does that change the nature of the program as the actor changes the character's appearance? Can anyone assume the role of this character, and if that is so, will the character's features, demeanor, movements, etc change or must the actor assuming the role change to look like Mary Louise Parker playing the role? Is this portrait supposed to be a picture of the actor or of the character? What separates the two (the program and the actor)? Part of the point of recent figuration has been the idea that identity and character are no longer separate, and therefore, no longer capable of being read as "real." It is the unreality of our encounters that leaves us looking for signifiers in order for us to play along – to know what something means. We don't encounter the rising subject so much as look for clues as to what the ground contains, what programs the ground is running. Picasso's famous line that "painting is a lie that tells the truth" no longer applies. This presupposes a truth – a comparable reality. In Postmodernism there is no truth – there are only contexts and references – programs. Painting is simply a lie that tells us about itself.
Lost deep within this Postmodern moment, our brushes poised – what can we do? How do we get beyond the expressionism, the surrealism, the Postmodern. What's it going to take? We'll discuss that in part 8.